Articles and Interviews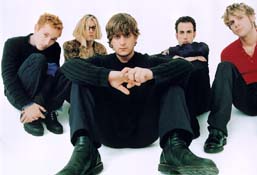 Some are small, some are large. Some are old, some are new. Read and enjoy :) If you couldn't tell, the articles are organized by year and month (generally). Have fun! (If you want to use any of these for your website, please read our policies first).
Note: Any article with a red star (*) next to it is new since the last article update.
2005
Moon Unit and Matchbox Man Have A Baby*
Matchbox Twenty Lose Guitarist, Rob Thomas Explores Solo Career*
Adam Gaynor Confirms Split With Matchbox Twenty*
John Mayer to Guest on Rob Thomas Album*
Adam Gaynor Gives Fans A Solo Tasting*
Adam Gaynor Moves Forward After Matchbox Twenty*
In the studio with Rob Thomas: Making music on his own*
MONTREAL HAS A PLACE IN HIS HEART*
ROB THOMAS SHOWS GRATITUDE TO COMMITTED DOG*
Matchbox Twenty's Rob Thomas Goes Solo, But Not By Himself*
Rob Thomas's soul*
Rob Thomas Goes It Alone*
ROB THOMAS'... something to Be' (Atlantic)*
Thomas makes sure you share his pain*
Rob's vision still 20-20*
MATCHBOX TWENTY STAR BREAKS CHART RECORDS*
Letting it Be*
Cloud Control*
Adam Gaynor Heads Back To The Studio *
Thinking outside the 'box; Rob Thomas felt time was right a non-Matchbox Twenty album*
MATCHBOX TWENTY SUED OVER ALBUM COVER *
THOMAS KEEPS HIS DOG TRAVELLING IN STYLE*
ROB THOMAS A HUGE 24 FAN *
NBC Today Show - Rob Thomas talks about his solo venture and performs*
UGLY THOMAS QUIT COCAINE AFTER MOTHER-IN-LAW'S OUTBURST *
ROB THOMAS LACKING SPORTS KNOWLEDGE*
THOMAS ADVISED TO 'BE SEEN' LESS WITH WIFE*
ROB'S REALLY SOMETHING*
Taking Care Of Your Voice*
ROB THOMAS CAN CLAIM 75 MILLION ALBUM SALES. SO WHO IS HE?*
ROB THOMAS AN INTERNET PORN FAN*
Simply out of the box*
Lifestyle choice has Rob waxing lyrical*
Rob Thomas - "I Can't Remember the First Two Years of Matchbox Twenty"*
Next Matchbox Twenty Album Not Until 2007*
Rob Thomas thrives on "Heart Breaks"*
Rob Thomas hits the road for national tour*
Gearing up for tour*

2004
matchbox twenty taking a break to take on solo projects*
Matchbox Twenty's Rob Thomas doesn't do things by halves*
Rob Thomas didn't show, but the band rocked*

2003
Area resident on charts with Matchbox Twenty
MSN Chat with Rob and Adam Jan. 8, 2003
Matchbox Twenty refuses to fade
Matchbox Guitarist on Frontman
The sweet taste of success
Matchbox Twenty strums outside the box
Sound Bytes from Matchbox Twenty
More than you think he is
Matchbox Twenty postpones European tour
MATCHBOX TWENTY POSTPONES EUROPEAN TOUR; DATES TO BE RESCHEDULED FOR LATER IN YEAR
Heartfelt new-rockers Matchbox 20 still smoulder and sizzle
More than just a pop band
MATCHBOX TWENTY; BAND IS MORE LIKE IT THINKS IT IS
Matchbox to make good on concert
Matchbox twenty hits all right notes; Sugar Ray beats sound woes
Regular-guy Rob Thomas boosts Matchbox Twenty
MB20 Lights Up Crowd With High Energy Show
Matchbox Twenty ignites Xcel fans
Speaking with ... Rob Thomas
The song is 'Unwell,' but the band's feeling swell
URGENT TOUR UPDATE
Energized matchbox twenty still burning
Someone Like Them Mixes It Up Surprisingly
Power Chords: Matchbox Twenty Brings Latest Work To Town
Matchbox singer ignoring image
Does Matchbox Twenty Agree With Critics?
He Writes the Songs
Un-Matched Anonymity
Rob Thomas Pens A New Rock Role
Big Break For Paul Doucette
They're a Matchbox Made In Heaven
Matchbox Twenty On the Road With "More"
Matchbox Guitarist Strikes Up Conversation
Thinking outside the Box
Matchbox Twenty unveiled in downtown Manchester show at Verizon
Locked In; Consistency Matters to Thomas, Matchbox Twenty
Matchbox Twenty Flame Still Burning; Group's on Tour in Support of Third Album
Matchbox Twenty rocks Manchester
Matchbox singer matures into role of songwriter
Fanning Flames; Matchbox Twenty brings its "stripped-down" sound to Peoria in support of its latest album "More Than You Think You Are."
Crowd Sings Along with Matchbox Twenty
Today Show On-Stage Interview Transcript
Today Show Backstage Interview Transcript
The 'unhip' Matchbox Twenty
Band entered barn studio, emerged with 'human' CD
Delivering 'More'; Third Album Most Collaborative Effort by Matchbox Twenty
How will this play in Peoria?: Rob Thomas of Matchbox Twenty has been through a few strange places on his way up
Songsmith to the stars
Drummer: It's cool to be unhip
Matchbox 20 to bring new live sound to Utah
Hot-Selling matchbox twenty Carries a Torch for Arena Rock; Flick your Bic: Bombastic band fires up a new tour in support of its third album, "More Than You Think You Are"
Matchbox Twenty strips down to Top 40 basics
E Center rocks to a triple play
Matchbox Twenty pares down to emotion
Singer's sincerity fuels matchbox concert
Matchbox Bent On Newcastle Return
Matchbox Twenty strikes a balance
All is well with Matchbox Twenty...Frontman Thomas, bandmates have another hit on their hands
MUSIC REVIEW MATCHBOX TWENTY STRIKES IMPROVED TONE
Pushing buttons: Matchbox twenty ruled the Santa Barbara Bowl with a hit-packed set
Matchbox twenty's not 'Unwell'
New album strikes creative chord
Just out of the box
Matchbox Twenty a crowd-pleaser
Matchbox Twenty singer says it's time to indulge in side projects
MATCHBOX TWENTY HAS SONGS TO SPARE
Matchbox Twenty Pleases
Matchbox Twenty loves a crowd
matchbox twenty
matchbox twenty coming to Tupelo
Matchbox Twenty's still got some spark
Matchbox falls into generation gap
Matchbox Twenty Prepare For The Solo Years
Joe Rockstars: Matchbox Twenty
A radiant performance from matchbox twenty
Matchbox Twenty - Orlando natives return to roots with third album
Songwriter sparks winners
NEWS - Matchbox Twenty's 'Unwell' Breaking Radio Records
Matchbox Feels Very Well about 'Unwell': Top Ten 'Hot 100' Smash Breaks Radio Records; Tour Rocks on to Audience Raves, Critical Praise
Q & A
Makeup concert for canceled matchbox twenty set still up in air
MATCHBOX 20 CAPTIVATES FANS 'WHERE IT ALL STARTED'
Matchbox Twenty Concert Review
Rob Thomas and Band a Good Match
Once more with less feeling
Back to the basics: Matchbox Twenty returns to its roots through a new album
Fans Get a Good Party From Matchbox Twenty, With Help From Sugar Ray
More Than You Think You Know About Matchbox Twenty (interview with Paul)
Irwin Thomas Added to Matchbox Twenty Tour
One out of the box
Giving Fans What They Deserve
Matchbox Twenty to tour Newcastle
Pictures of a Matchbox Man (interview with Adam)
Out of the wilderness
Matchbox mission accomplished
Matchbox Twenty Pay Tribute To The Late Sam Phillips
What You See Is What You Get Right In The Middle Of The Road
Brian Yale and the Matchbox Twenty Foundation Scholarship
matchboxtwenty's secret: Melody, melody, melody
Matchbox 20's Thomas sought for movies
Lighting the Match: Matchbox Twenty guitarist Kyle Cook provides the fuel for Rob Thomas's fire
Matchbox Twenty delivers tenfold
Without Thomas, Pizza Hut's a possibility for Matchbox
UNMATCHED; MATCHBOX TWENTY HAS HAD MORE ADULT-CONTEMPORARY AND MORE ADULT TOP 40 HITS THAN ANY OTHER ARTIST OR GROUP.
New album, new sound for matchbox twenty: Band's evolution has some tunes sounding more like Elton John than Creed
'It's like being married to four other guys' matchbox twenty guitarist dishes on life in the band
Matchbox Twenty so very predictable
Matchbox Catches On
Matchbox Twenty thrives despite side projects
Middle Ground Is 20's Happy Ground
A satisfied customer; matchbox twenty's Rob Thomas is happy with his life, his work
Matchbox Twenty still knows how to light up a stage
matchbox twenty sparks plenty of appeal
Back to good Matchbox Twenty's latest album reflects a return to the group's earlier sound
Rob Thomas keeps writing songs everybody wants to hear
Playing same tunes gets old, group says
Rob Thomas lifts band above the ordinary
EVEN MATCHBOX TWENTY MEMBERS CAN'T BELIEVE BAND'S LONG SUCCESS
Matchbox twenty rocks the Save Mart Center
Matchbox Twenty: Recording and learning
Matchbox Twenty strikes right note with audience*
matchbox twenty Rocked Airwaves in '03: Band is #1 Adult Top 40 & #1 Modern AC Artist of Year; 'Unwell' Ranks as #2 Song across All Formats

2002
Matchbox Twenty's Thomas Throws Support To N.Y. Animal Shelter
Matchbox Twenty Producer is the New Head of Virgin
Bon Jovi, Rob Thomas, & Don Henley Deliver Heartfelt Musical Tributes To Billy Joel
Mick Jagger, Willie Nelson May Guest On New Matchbox Twenty LP
Billboard Bits: Rob Thomas
Matchbox Twenty Hits Nashville Studio For Preproduction
Ass Shakin'
Mick Jagger Co-Writes Song For New Matchbox Twenty Album
Singer donates afternoon for a good cause
Disease strikes matchbox twenty
Matchbox Twenty's Next Album In November?
Matchbox Twenty's Adam Gaynor on September 11
Matchbox Come Back With "More"
Matchbox Spreads 'Disease'
New Matchbox Twenty Music on the Way This Fall
Matchbox Twenty Back For More
Matchbox Twenty Building the Perfect Beast
Matchbox Twenty Finalizes New Album Details
Matchbox Twenty Strikes New Chords
Mister Write
MATCHBOX TWENTY: "MORE THAN YOU THINK YOU ARE"
matchbox twenty: "MORE THAN YOU THINK YOU ARE" Album Hits Stores Today
Matchbox Twenty Releases 'More Than You Think You Are'
Fremont woman is singing praises of band after winning trip to see Matchbox Twenty
Matchbox men take control
Pretty ugly time for Rob
Matchbox Twenty keeps their old fans
Matchbox Twenty's strong pop album feeds aging fire
Today's Chat with "Matchbox Twenty" Members
Matchbox Twenty Wrestle With Deer, Mick Jagger's Needs To Make New LP
Rob Thomas: Santana's Smooth Sidekick
Rob Thomas Celebrates "A New York Christmas" Solo Single to Support Blythedale Children's Hospital
Matchbox Twenty's Songwriting Evolves
Matchbox Twenty Turn New York Into Giant Roller Disco
Friends in High Places
2001
Launch.com Medley of Articles
matchbox twenty Tickets Put On Endangered List; Just-Announced North American Trek Challenges Grammy Nominees for Season's Most Popular Tour
Net 2Night Interview With Kyle Cook
Axology Matchbox Twenty - Vintage or Something Like That
Middle Of the Road
Matchbox Twenty Sells Out Madison Square Garden In A Mere 45 Minutes
Birthday Boy Thomas Guns for More Grammys
Open House Party Interview 02/17/01
Matchbox Twenty's Thomas Navigates A "Smooth" Path
Rob Thomas puts a face on Matchbox Twenty
Nice And Normal: Matchbox Twenty Keeps the Torch Lit for Everyday Folks
Matchbox Twenty's Thomas Teams With Nelson
Matchbox singer enjoys 'Smooth' life
Matchbox Twenty More Pop Than Crackle
Band Offers Predictable But Solid Performance
Smoldering vocals ease Matchbox Twenty into sophomore success
Life not always smooth for matchbox twenty
Thin Line
'Smooth' move: Matchbox Twenty gets its act together in wake of 'the song that ate the world'
Pop-rock group matchbox twenty aims to elevate its level of music
Great songwriting the goal of matchbox twenty's Rob Thomas
It's been a 'Smooth' ride for Rob Thomas and matchbox twenty
Matchbox Twenty On Tap For Sun Records Tribute
Matchbox Twenty's Rob Thomas is a team player
Smooth Sailing
Matchbox Twenty, Everclear, Lifehouse (Sold out)
Matchbox 20 (Interview Magazine Article)
Hard knocks to smooth attitudes
Twenty-Twenty Vision
Matchbox Twenty's Rob Thomas inducted into S.C. hall
MusicVideoWire.com's interview With Mad Season's video director
Matchbox Twenty At the Corel Centre (Newspaper Review)
The Band That Beat the Jinx (from a Canadian newspaper)
Mad Chatter (Interview with Adam)
Seasonal Madness
Matchbox Madness: Band Lives Up To Promise It Was 'Here to have fun'
Twenty sticks of matches
20/twenty vision
Matchbox struck on Kelowna
Matchbox Twenty sets Florida on fire
Matchbox Twenty, Train Set Tour Dates
Matchbox Twenty Strikes Up the 'Storytellers'
Matchbox Twenty's 'Season' Reaches One Year
Smooth Talkers
GetMusic.com Interview With Rob Thomas
Strike Up the Band
Smoother Than Smooth (USA Weekend Magazine)
Q & A With Rob Thomas (Aug. '01 Teen People)
Matchbox 20 Embraces Low Key Identity
Matchbox Twenty ready to kick off tour
Matchbox Has Risers Shaking At Fargodome
Matchbox Twenty: love 'em or hate 'em (interview with Adam)*
Matchbox Twenty's Success Hasn't Spoiled Lead Singer
A Concert Review of Matchbox Twenty and Train, August 3, 2001
Another Mad Season On the Road
Matchbox keeps the spark alive
Matchbox thrills happy couples
COVER STORY: 'Matchbox Twenty'
Matchbox Twenty News from the Road
A passion to perform
Triple bill proves one of summer's finest concerts
Matchbox Twenty, Train musically on target
In a world of burnouts, matchbox stays hot
Matchbox Twenty Comes On Strong
Matchbox Twenty, Train Rock The House - Gently
matchbox twenty rocks Coliseum
Rob Thomas keeps cool perspective on success
Success shines on matchbox twenty
matchbox twenty's Rob Thomas
Rob Thomas Gives Great Show
Cook Stirs Up Support For Club
Matchbox Twenty N.Y.C. Appearance Postponed Due To Plane Crash
Rob Thomas Recounts Writing Of Mick Jagger Album's Leadoff Track
Rob's Cat Skills
Matchbox Twenty Appearances Benefit AIDS, September 11 Charities
Jagger to Sing on Matchbox Album
Matchbox Twenty Songs Stick Around
2000
Rob Thomas' Night To Howl
Washingtonpost.com Article
Decomposing: Santana's Smooth (Note: Strange)
ET Online Article
Pro-Mark Stix In Session Presents Paul Doucette
The Big Match
AOL, Time Warner Pair For matchbox twenty Promo
Matchbox Twenty Gets A Big Push From AOL
matchbox twenty Takes to the Road: Special Club Dates Mark First Tour Since '98; Anticipation Builds for May 23rd Release Of "mad season by matchbox twenty"
Martyrs to the charts
Matchbox Twenty swims the mainstream
No Growing Pains For Matchbox Twenty
Matchbox 20 Ignites Again
Adam Interview With Extreme-Online
LiveDaily Interview: Rob Thomas of matchbox twenty
Radio Interview With Rob May 31, 2000, St. Louis
Matchbox Twenty GlobalZona Article
Matchbox Twenty Comes Of Age
Orlando Magic: Matchbox 20 Step Up to the Plate for Album #2 (GuitarOne Article)
Matchbox Twenty's Rob Thomas and Dan Doucette: Interview(I don't know why he's called 'Dan')
Family.org Review (rather amusing)
Matchbox Twenty- Mad Season
Matchbox Twenty Is Striking Again
Instant Success Took Years Of Work
Matchbox Twenty At the Vic
A Group With 20-Twenty Vision
Matchbox twenty strikes second time
Q & A With Rob Thomas Of Matchbox Twenty
The Perfect Match
Mad Season By Matchbox Twenty
Matchbox Twenty lead singer Rob Thomas says he doesn't want to go solo
Out Of the Box
MTV article/interview (6/12/00)
Matchbox Twenty and Their Mad Season
June '00 Launch article
An American Band (Spin Article)
Matchbox Twenty Just Want To Be Loved By You
Total Guitar - Matchbox 20
Sydney Morning Herald - Matchbox Men
Matchbox Twenty: It's A Mad, Mad, Mad, Mad Season
Matchbox Twenty's Lead Singer Rob Thomas Tells Neala Johnson He's No Longer Fat and Doesn't Feel Famous
Matchbox Twenty: The Verdict
Guitar Player Magazine Article
Smooth Operator: An Interview with Matchbox Twenty's Rob Thomas (Dr. Drew Article)
Matchbox tunesmith lights band's fire
Adam Gaynor Six-String Cut-Up
Play It Like That Matchbox Twenty
Matchbox Twenty Realms Of Madness
Kyle Cook: Chef In the Kitchen of Matchbox Twenty
The CDNOW Interview: Matchbox Twenty: Audio Interview
Striking Up the Band
MSN Chat (September 11, 2000)
It's 3 A.M., Do You Know Where Your Guitar Is?
Success has been smooth for Matchbox Twenty
Matchbox Twenty's Adam Gaynor Gets Stolen Guitar Back
Matchbox Twenty is No One's Whipping Boy
Matchbox Twenty drummer discusses group's rise to fame
Thomas Talks Matchbox Twenty Tour
MATCHBOX TWENTY CONCERT: Singer knows how to light women's fires
Matchbox Twenty Burning Bright
Guitarist.co Article with Brian, Kyle, and Adam
Spotlight: Matchbox Twenty
Charlie Rose Interview
matchbox twenty Grew Up With "mad season"
Matchbox Twenty Frontman Rob Thomas Ponders Success
Matchbox Twenty coming to UVSC
Modern Classics: Matchbox Twenty Likes A Contradiction In Terms
A lot of bonding went on in the matchbox twenty world tour
It's A Mad, Mad World
Mad For It
UnMatched
WYSK Concert Interviews/Reviews: Matchbox 20
Matchbox Twenty's Paul Doucette: Drumming For the Song
People Of the Year
Article With Paul
Launch Interview with Rob and Kyle
1999
Matchbox 20 Will Give the Radio a Rest
Transcript of Yahoo! Chat with Matchbox20 May 5, 1999
Matchbox Twenty: Radio-Friendly, Anonymous, But Mega-Platinum
1998
Matchbox 20: Only the Beginning
Matchbox 20 singer got the life he wanted
Hear Matchbox 20 Live!
matchbox 20 to play Thomas Wolfe Auditorium (Feb. 5, 1998)
Matchbox 20 Rock N' Roll Extravaganza
Matchbox 20 Not About To Be Pushed Around
BURNING DESIRE; SLOW-STARTING MATCHBOX 20 FINALLY LIGHTS UP THE CHARTS*
Matchbox 20's Thomas flawless behind the mic
Matchbox 20 Strikes Hard With 'Push'
Matchbox 20: All Fired Up
Don't Push them Away - Matchbox 20 Plays to a Sold Out Patriot Center Crowd
When 'Push' comes to shove
Matchbox 20's road trip to stardom*
Show Proves Matchbox 20's Flame Is Strong
April '98 Launch interview with Rob and Paul
Matchbox 20 all fired up*
Overpaid and Overexposed? Not Over Here!
War of Wills
Pictures of Matchbox men
Matchbox 20 building a career on the road
Matchbox 20 on fire (article with Brian)
How Matchbox 20 caught fire: 'Playing songs to people who love them...it's not a bad gig,' says rhythm guitarist*
Magic Matchbox*
PEOPLE Online|Matchbox 20 6/15/98
Rockpalast chat with Paul and Rob (look for zindo!)
Sweet Smell of Success
Matchbox 20 songwriter Rob Thomas' hard life is in his lyrics
10-month wonder
Flame burns brighter
NY Rock Interview
Burning Bright: Matchbox 20 Get 'Push' Into the Big Time
Debut carries Matchbox 20 to the top
Matchbox Twenty Catches Fire At Star Lake
Matchbox 20 strikes a low profile
Matchbox Twenty Burns Its Way To The Top
Despite critical drubbing, Matchbox 20 keeps strumming
AOL Chat Transcript (non-edited version)
Nando Times Article
Matchbox 20 burning bright
Matchbox 20's winding road
Yourself or 7,000,000 people like you
On the Run
Rollingstone Article
The good oil on Matchbox 20
Guitarist.co Article with Brian
1997
Atlantic Records Article
Matchbox 20: Music gone right from love gone wrong
Tennessee Newspaper Article
Shoebox 20?
Matchbox 20 strikes
Weather or not - Canadian gigs thrill and chill Matchbox 20
A Concert Review of Matchbox 20, The House of Blues, Chicago, IL
Atlantic's Matchbox 20 On Fire In Rock Market*
Questions & Answers with The Boys of matchbox 20!
Untitled Article From 1997
Matchbox 20 catching fire
Matchbox should light a bigger fire on this visit*
Matchbox 20 strikes it hot (interview with Kyle)
It Could Happen to Yourself or Someone Like You
Matchbox 20 feels heat of success
Matchbox Mania; Chart-Topping Band Discounts Comparisons with Counting Crows and Hootie*
MSO: matchbox 20--Q&A With Rob Thomas
Matchbox 20 out to justify lofty chart position
Pop Music: The Push They Needed
Matchbox 20 Ignites Charts With Melodic Rock*
Matchbox 20 puts on stompin' show that lays claim to heavy-pop fame
Matchbox 20 Strikes At Critics
Matchbox 20 Simply Heats the Night*
Matchbox 20 plays with popular tunes*
Rock Reporter Interview
Striking a Chord
1996