Matchbox struck on Kelowna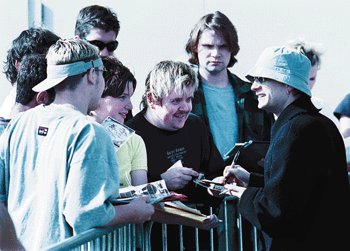 By J.P. SQUIRE
The Daily Courier - http://www.theokanagan.net
Members of hot music sensation Matchbox twenty had the time of their lives in Kelowna the past two days.
The band, its crew and the musicians in Lifehouse, their opening act, had a wild end-of-the tour party on Monday, complete with water-skiing and jet-skiing.
Benjamin 'Benwah' Richardson, Matchbox lighting director, has a friend whose parents live in a Lakeshore Road mansion. The parents were out-of-town, of course.
"A lot of them who had not been here before are saying 'Hey, this won't be my last time in Kelowna,'" said Dan Cowan, senior production manager for Western Canada with House of Blues Concerts.
"They are enamoured with Kelowna after a beautiful day like Monday. A couple of them are staying in town for a couple of extra weeks to play golf. I wouldn't be surprised if they came back just for a vacation because they love golf and water sports."
Everyone was well behaved at the party, he said, after the band and crew were warned in their daily internal memo not to outwear their welcome.
They were also advised in the light-hearted memo: "If you get drunk enough, you may spot Ogopogo."
Shuttle vans ran continuously during the day between the mansion and The Grand hotel, where everyone is staying.
Everyone was in good spirits after Monday's day off, he said, adding lead singer Rob Thomas was "a little under the weather" but taking cold remedies.
"Everyone's focused on visions of home, but this is going to be one final great show at the end of a great tour. Everyone has a bounce in his (or her) step. This will be a very memorable show."
Leila Eminson, in charge of Matchbox twenty publicity and promotion, laughed, admitting she fell in the lake off the back of a boat on Monday.
"This is fabulous, fabulous, fabulous. It's so beautiful here that I would have stayed a few more days. I love the crystal clear water, but this has been a long, long tour. I haven't been home (to California) since February."
In three weeks, the band leaves for Europe, so everyone is looking forward to R&R.
"There's always a little extra energy pumpin' out there at the end of a tour," she said.
"Hats off to Dave Dakers (Skyreach manager) for bringing such a high-profile band to Kelowna," said Rosemary Paterson, director of marketing and sales at The Grand hotel.
"It's great when a band like Matchbox twenty can discover Kelowna. It raises the profile of the community. It might help Dave bring in other high-profile groups."
Officially, staff at The Grand can't acknowledge Matchbox members are staying there.
"Apparently, they had a really good time at the party. If we can sell the Okanagan to bands like this, maybe we can turn this into a destination place for them," said Skyreach spokesman Lorne O'Reilly.
Skyreach released an additional 300 tickets for the concert Tuesday afternoon. The first 5,000 tickets sold out in 45 minutes.