An American Band (Spin Article)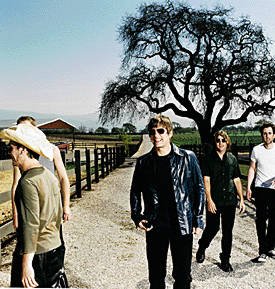 *Note: I put forth a lot of effort to type this out...please don't steal it :)

Ten million people loved Matchbox Twenty's first record, but hipsters dissed the band as faceless and bland. Now, Rob Thomas and Co. are back, still proudly "Middle of the Road" - as they put it, "Cool Bands Don't Sell Records"
By Gavin Edwards
Only a few years ago, when their record sales were a lot closer to 12,000 than 12 million, Matchbox Twenty wanted more than anything to be flashy, conventional rock stars. They even showed up for early-morning flights in glitzy stage outfits, dark sunglasses, and long furry coats. When customs officials asked ask him to cite his occupation, singer Rob Thomas would always answer "rock star." If they looked at him skeptically, he would airily assure them, "I'm huge, trust me."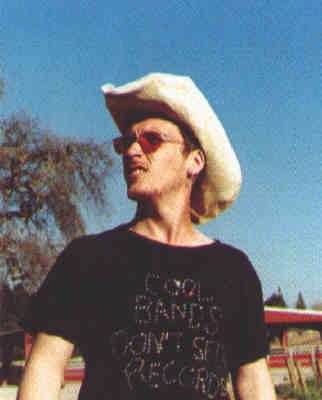 Thomas was convinced he was famous when he had nothing but a bar band whose popularity didn't extend much farther than their Orlando, Florida, homebase. When Matchbox Twenty were signed to Atlantic in 1996, Thomas thought, "I'm the shit - everybody knows who I am." But after he won a Grammy as cowriter of the Carlos Santana smash "Smooth" and started hanging out in VIP rooms with the likes of Paul McCartney and Eric Clapton, he gained a much more realistic sense of his place on the celebrity ladder.
"Now I feel so not famous at all," he says. "I would rather be a successful songwriter. Stardom can come and go, and if you get fat, people make fun of you. If you're a songwriter, it doesn't matter." Thomas, 28, is referring to the 40 pounds he gained on Matchbox's last tour, which led to a few catcalls (and a feud with Stephan Jenkins of Third Eye Blind). Now, fitter than ever, Thomas grudgingly accepts that staying in shape fall sunder his job description as lead singer.
Deep down, Thomas knows hat he and the band - drummer Paul Doucette, lead guitarist Kyle Cook, rhythm guitarist Adam Gaynor, and bassist Brian "Pookie" Yale - are more down-to-earth nice guys than larger-than-life rock gods. He's he first to tell you that Matchbox aren't the hippest band on the planet, that he's grown accustomed to bratty alterna-types accosting him and growling, "Your band sucks!" When he introduced himself to Leonardo DiCaprio at the New York City hot spot Moomba, the actor snubbed him. Critics were not much kinder, describing Matchbox's ten-times-platinum 1996 debut, Yourself or Someone Like You, with words like "bland" and the band itself "faceless." It stung at first, but now the band don't give a damn. A backlash is inevitable when your music rules the nation's airwaves for months at a time. Thomas fondly recalls a bandmate's pithy response to a bad review: "Oh my God, I'm going to commit suicide. I'm going to jump off my wallet!" Doucette has a T-shirt that reads COOL BANDS DON'T SELL RECORDS.
Matchbox are more interested in a legacy of pop-radio hits than enticing hipsters to wear their concert tees, and they cite the careers of Tom Petty and Elton John as inspiration. They're pleased that their broad fanbase encompasses everyone from little kids to their parents. "If this were the road," Thomas says, making two parallel lines with his hands, "you have your Korns and your Limp Bizkits over here [his right hand twitches] pushing the edge of aggression. And over here [left had twitches] you have your Chemical Brothers and your Mobys pushing the rhythmic edge. And you need both those sides.
"But right down the middle [moving both hands like he's directing traffic], you need some people playing good songs, the kind you want to hear on the radio while you're hanging with your friends at the beach. We're not pushing the boundaries, but we're taking up some space there in the middle. I want to do that consistently" Thomas smiles, having converted the "middle of the road" tag - often used as a billy club on the band - into a manifesto.
One thing that still makes him bristle are the people who grudgingly tell him, "hey, you guys are okay." "Fuck you!" Thomas says. "I don't need to be vindicated by you." Convinced that Matchbox "lucked out," Thomas would rather marvel at his success than arm-wrestle with naysayers - though his patience for insults is finite. When a kid in a Marilyn Manson T-shirt told him that Matchbox were "pussies," he finally lashed out: "I've met Marilyn Manson. I don't think he'd like you either."
Matchbox Twenty are gathered on their manager's sprawling cattle ranch in the mountains near Santa Barbara, California. In 1993, Michael Lippman took the money he earned manager songwriter Bernie Taupin (lyricist of most Elton John songs) and fulfilled his childhood dreams of horses and cows with a 70-acre plot of land, not too far away from Michael Jackson's Neverland. The bandmembers love the property - Thomas married his wife, Marisol Maldonado, here in 1999 - and have chosen it as the site for a massive album-release party for their new record, Mad Season by Matchbox Twenty.
On a hot April afternoon, the group strolls around the premises, careful to avoid the piles of cow dung, not so careful about the bright sun. Thomas gets a weird patch of sunburn through a hole in the knee of his jeans, and Doucette turns flame red on half of his face. Soon Thomas spots a little green go-cart and drives it up and down the ranch's roads at its highest speed, spooking the livestock. "If you're hanging out on Michael's ranch, you can't feel rich yourself," Thomas says. "you start to realize the scope of things."
If the lesson of the ranch is that songwriting royalties can buy boyhood fantasies, then Thomas is already working on applying it. He's submitted demos to Tina Turner and Mary J. Blige and may have a song on country star Tim McGraw's next album. Santana's "Smooth" was Thomas' first outside project, and he wasn't supposed to sing it. Songsmith Itaal Shur had submitted a tape of the Latin-flavored groove to Santana's A&R reps at Arista, who liked it but thought the lyrics and melody needed work. Arista sent it to Thomas, who first wrote the verses, then met with Shur to hash out a new chorus. Thomas' vocals were supposed to be only a stopgap; the duo hoped to get someone like George Michael. But Santana, who had never heard Matchbox Twenty, listened to Thomas' voice and said, "I believe this guy."
To Thomas' surprise, "Smooth" was the jumbo hit of '99, holding at No. 1 for 13 weeks. Says Santana, "Some songs reach all people, like 'Louie Louie' and 'Guantanamera.' 'Smooth' is like the Champs-Elysées in Paris - it's connected to all the streets." (One path led to Aerosmith's Steven Tyler, who called Thomas one night to serenade him with the chorus.) In the omnipresent video, Thomas costars as the charismatic, cowboy-hat wearing ringleader of a sweaty block party (his wife plays a sexy dancer.) This may have eliminated the "faceless" tag once and for all. Thomas happily reports that while strangers on the street used to greet him with "Hey, Matchbox!" he now hears, "Are you Rob Thomas?"
Shur was less ecstatic about the spotlight on Thomas, especially when the pres carelessly referred to Thomas as the song's sole author. Then Thomas took umbrage at a few comments Shur made: "He was belittling anything that I had put into the song. He wanted to do a dance track, with drum machines. Carlos would never have gone for that. I was giving him a lot more credit than he was giving me."
Shur is now eager to make peace. "I don't want to be bitter or point fingers," he says. "it's a great song, and we both won the Grammy - there's room for all of us to be happy about it."
"Smooth" has only improved the prospects of Matchbox Twenty's new album, but Thomas' bandmates understandably have mixed emotions about his solo success. They've made it emphatically clear they will never perform the song live. "It was weird watching the Grammys, that the four of us weren't up there, too," Doucette says. "Our careers started together, and he's having a pinnacle-of-a-career moment, and he's doing it totally without us. I was very torn - but God, I was really fucking proud of my friend."
The price Thomas has had to pay: At band meetings, whenever he voices an opinion, the other members respond in a chorus of mock outrage, "oh, we're supposed to do whatever you say just because you won the Grammy."
Matchbox Twenty can presumably afford to practice wherever they want: the flight deck of an aircraft carrier, the nave at St. Peter's Basilica. But instead they're rehearsing in the distinctly unglamorous conference room of a small hotel in the hills of Santa Barbara, basically because it's close to Lippman's ranch. The carpet is patterned with very un-rock'n'roll orange, white, and green flowers. Tacky paintings of sun-dappled mountains and ship-filled harbors adorn the walls. "This wins out as the weirdest place to rehearse ever," Thomas says.
The band is gearing up for a short club tour, their first live shows in a year and a half, and producer/"sixth member" Matt Serletic s cracking the whip, forcing them to dissect each song and relentlessly polish the fragments. It takes an astonishing 90 minutes per track, so everyone is desperate for small distractions. Doucette and Gaynor throw french fries at each other, and for a while, Thomas ends each song rendition by shouting "Jazz hands!" and wiggling his fingertips.
After an hour, Matchbox escape outside for a cigarette break. ("We're the smokingest band in rock," Thomas says.) Talk turns to the video concept for Mad Season's first single, "Bent." There's a lot riding on it, but the primary concern is coming up with creative methods of abusing Thomas. "I want to bludgeon Rob in an alley with a Grammy," Cook says. Doucette wants the "whole video to be a close-up like [Sinéad O'Connor's] 'Nothing Compares 2 U,' but then Rob gets hit on the head with a baseball bat."
"I want to urinate on you when you're down," Gaynor chimes in. Thomas appears greatly amused. (In the final edit, his bandmates merely stalk him.)
Matchbox get on like old college roommates: endless inside jokes (like puns on the movie title The Guns of Navarone), endless teasing (like reaming Yale for claiming he's beefed up his muscles through golf), with Gaynor the main instigator of banter and abuse. Being on the road for months on end makes rock relationships tough, but every member of Matchbox has beaten the odds. Yale, 31, and Gaynor, 36, have long-term girlfriends. Doucette, 27, is engaged to novelist/actress Moon Zappa. Cook, 24, is married and has a baby girl. Thomas met graduate student Maldonado in 1998, when her friend dragged her to a Toronto Matchbox concert. They wed a year later, are pretty much inseparable, and recently bought a house in the Westchester suburbs of New York. Maldonado often teases, "You're just a boy. You're a cute boy and I love you, but I don't know what all the fuss is."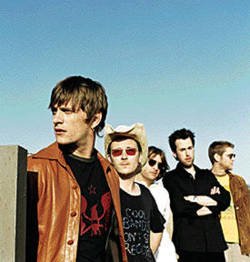 Rob Thomas was born Valentine's Day, 1972. His parents divorced when he was two, and he moved in with his grandmother in rural South Carolina, where she ran a general store (and sold moonshine and pot under the counter). At 12, Thomas went to live with his mom in an Orlando, Florida, trailer park. He started sitting in front of a mirror with a guitar that had no strings, pretending to be in a rock band; he liked the Cure, Front 242, and Nitzer Ebb. In high school, he joined a few cover bands, then he dropped out for good when one of them, Fair Warning, got a three-week gig at the Vero Beach Sheraton. Unfortunately, after three days of stealing beer and candy bars from the hotel, they were fired and sent home.
Thomas and his mom were usually at odds, and things grew even tenser when she was diagnosed with cancer. At 17, when her illness went into remission, Thomas spent three years traveling around the South, crashing with people he met on the road. After teaching himself the rudiments of piano and guitar, he settled in Florida again and started a band called Tabitha's Secret in 199. The bassist was Connecticut native and Berklee College of Music graduate Brian Yale. Paul Doucette answered a newspaper ad for a drummer into R.E.M., Van Morrison, and the Jayhawks. ("But no one else in the band liked that stuff but me," Thomas says with a laugh.) After Doucette's audition, Thomas took him drinking and told a huge, belligerent drunk that Doucette was the kickboxing champion of Pittsburgh. Doucette escaped without being mangled, and a friendship was born.
Doucette quit in '93, however, and returned to Pittsburgh. He accepted a job at an auto dealership and drove back to Florida to get his stuff. But as he pulled into town at 75 MPH, a raccoon jumped in front of his car. Doucette swerved to avoid it and rolled the vehicle over. While it was being repaired, Doucette's replacement quit; he agreed to fill in for a few shows. "Finally I was like, 'fuck it, I'm not going anywhere,'" Doucette recalls. "And I just never left. It makes me think about fate in retrospect."
The overly jangly quintet never made it out of the local clubs, but their set included the future matchbox hit "3 A.M." The song caught the attention of Atlantic subsidiary Lava Records and of producer Serletic, who had previously worked with the massively successful Collective Soul. Thomas and company signed up rhythm guitarist Adam Gaynor, who had been the receptionist at Miami's Criteria Studios, and 19-year-old whiz-kid guitarist Kyle Cook. Their new name, which came dangerously close to being Big Shoe Spiders, was inspired by spotting a guy in a #20 softball jersey with a patch for Matchbox cars. Nobody loved it, but it stuck.
The resultant Yourself or Someone Like You, a collection of sincere guitar songs with plenty of lyrics about love, came out in '96, the same week Lava Records folded,; Matchbox were absorbed by parent company Atlantic, though they believe they were on the verge of being dropped. After one half-assed show, manager Lippman told Thomas he should invest his advance right away, because he'd never make another dollar from music with an attitude like that. But then Atlantic noticed that Matchbox's sales had mysteriously spiked in Birmingham, Alabama. Local alternative station WRAX had been playing the track "Push," and the "ratio of sales to spins was huge," says Atlantic Records general manager Ron Shapiro. The label released "Push" as a single; it became a Top 5 national hit, followed in quick succession by "3 A.M.," "Real World," and "Back 2 Good." The band goggled at the charts as sales mounted, million after million.
But the press was slow to write about the low-key band, and Thomas' lyrics didn't give much away. To underscore Matchbox's supposed identity crisis, MTV sent a camera crew to one of their concerts, asking kids to name the members, or at least the singer. What aired was a montage of puzzled expressions and lots of "Um, I don't know. Matchbox rule!" Thomas cheerfully choose to take this as validation: the triumph of music over image. Yale is more bewildered: "We made five videos, we were in al of them, and they got played a lot. Were people not looking?" People magazine was: It named Thomas one of their "50 Most Beautiful People in the World" in 1998.
Nice bands rarely make it into gossip columns without concocting bad behavior or PR stunts, and Matchbox stayed true to their real nature: more Brill Building than Kid Rock. the closest they came to controversy was when Third Eye Blind's Stephan Jenkins called the then-200-pound Thomas "Fat"; Thomas fired back that Jenkins had no soul. ("I've got a new live-and-let-live policy on everyone," Thomas says now. "Good luck, man. Have fun.")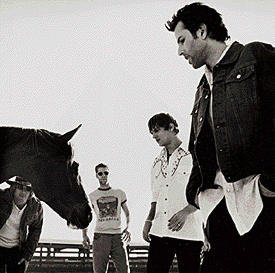 Thomas makes an entertaining drinking partner, one prone to funny stories about street fights and trailer park eccentrics. He's led a crazier life than many rockers and rappers - so why hasn't more of that life experience emerged in his music? Thomas says his tumultuous childhood and numerous broken hearts have found their way into his lyrics, but he tries to make it all seem as universal as possible. Says Atlantic's Shapiro, "Whatever growl Rob has inside, from being angry, from being confused, from being fucked-up by the world - he conveys it in a way that a lot of human beings can connect with." The new album is a little more specific - "Rest Stop," for instance, concerns a hitchhiking trip to Daytona, Florida; Thomas stayed with a woman who picked him up, but that relationship ended one night when she kicked him out of the car, miles from any town.
For Mad Season, Matchbox Twenty reunited with Serletic, and initial talk about including songs by other members was quickly quashed. The start of recording was rocky, with Thomas and Doucette embroiled in screaming matches. "There was a song called 'Honesty' that I absolutely hated," says Doucette. The song was killed after some high-volume "Fuck you's," but Thomas got his revenge. He posted a flyer on the studio wall titled SONG IDEAS FOR PAUL'S RECORD, on which he renamed classic album titles things like Pauls of the Holy and Born to Paul.
Determined not to repeat themselves, the band tried to create studio effects that could never be replicated live, like the dozens of layered guitars on the passive-aggressive rocker "Angry" or the synthesized vocal effects on the album's closer, a pretty torch ballad called "You Won't Be Mine." The "Bent" single is echt Matchbox Twenty: Guitars percolate but never boil over, while Thomas bemoans a rocky relationship in a tune you couldn't dislodge from your head with a jackhammer. "I'd been flirting with the melody for a long time," Thomas says. "And then after I met my wife, it became a love song: You're pretty fucked-up and I'm pretty fucked-up, but it's going to be fun, and we can make this work."
Released two months before the album, "Bent" was an immediate radio hit, muscling its way between all the thong songs and teen anthems at a time when sales for straight-ahead rock are soft. But neither the band nor their label will be disappointed if they can't re-create the phenomenon of the first record. "I'd be thunderstruck if they didn't have several hits," says Atlantic's Shapiro. "But we're definitely not pressuring them to sell like that again. It's a unique moment in time when something like that happens."
In March, the band announced they were changing the second half of their name from "20" to..."Twenty." (Thomas said that there were now too many bands with numbers in their names, à la Blink-182.) "The change is very cutting-edge," he jokes. "I just hope we don't confuse the fans."
The next day, band rehearsal shifts to a local dive bar, and Serletic tells Thomas he won't be needed for a while. "The rumors of my importance were greatly exaggerated," he says, strolling outside for some fresh noontime air. Hours pass and still Thomas is not required. "You want to go back in and have a smoky-smoke?" he asks me. We sit at the bar, watching repeated instrumental versions of "If You're Gone," chatting about the film American Beauty to stave off the boredom. "It's days like this that drive you to become a pot smoker," Thomas says as he passes the pipe. "What else are you supposed to do?"
A few minutes later, Thomas nudges me and says, "See that guy?" Sitting on a chair in the corner of the bar is a codger in a battered baseball cap and cowboy boots, reading a magazine. "That guy doesn't give a shit about us," he says. "We'll know we're doing well if we can make him start tapping his foot."
At 10 P.M., Serletic finally declares that Thomas is now officially important again. "I'm going to sing something!" he chortles "I better get onstage before they change their mind." He jumps up, lights a cigarette, and waves at his wife, who is among the 20 or so people watching rehearsal. Thomas grabs the mic. "Thank you for coming," he says. "We're Bad English."
The band launches into 1996's stardom fantasy, "Real World." "I wonder what it's like to be the rainmaker," Thomas sings. Although he may no longer need to wonder "What it's like to be the head honcho," he sings the song as passionately as ever, and the band romps through major chords they've played hundreds of times. Is it too mawkishly predictable for yet another one of Thomas' wishes to come true? Stop reading here if that's how you feel: The old man is still reading his magazine, paying no mind to the whelps onstage. But as if controlled by some unseen force - Thomas' booming voice, the insinuating melody, the boredom of sitting in a bar for hours on end - the man joins millions of Matchbox fans who just can't help themselves. His left cowboy boot starts tapping.