Twenty sticks of matches (Article with Paul)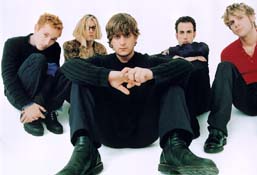 File Photo / Lead singer Rob Thomas, centre, and the
rest of his Matchbox Twenty cohorts are ready to light
up the Skyreach stage on Saturday.

Sandra Sperounes, Journal Music Writer
The Edmonton Journal

Concert Preview
Matchbox Twenty
With: Lifehouse
When: Saturday,
doors at 6:30 p.m.
Where: Skyreach Centre
Tickets: $39.50 and $49.50 (plus service charges) at TicketMaster (451-8000).

- - -

1. Call 'em Matchbox Twenty or Matchbox 20, drummer Paul Doucette doesn't care. "It's a name of a band, write it however the hell you want to," he says.

2. For the record, Doucette came up with the spelling change -- from 20 to Twenty -- for the group's recent record, Mad Season.

"Everyone made such a big deal about it which I thought was so stupid. I'd understand if we'd change our name to The Matchbox Twenty, now that would be pretentious," he laughs. "I also thought it was sad that it was the most important thing anybody had to say about us. I was like, 'Damn. We'd better get more interesting.' "

3. To some, that's the problem with Matchbox Twenty -- the Florida fivesome, set to play Skyreach Saturday night, create bland, middle-of-the road rock music. Yet the band's 1997 debut, Yourself Or Someone Like You, went on to sell more than six million records worldwide and chalk up a string of hits with Push, 3 A.M., and Real World.

Their latest, Mad Season, offers more of the same -- including Bent and the current single, Gone. In Edmonton, the album has sold 15,000-plus copies -- about 10,000 less than Yourself Or Someone Like You.

4. Mad Season is a reference to their meteoric rise to the top.

5. Doucette, singer Rob Thomas, and bassist Brian Yale formed Matchbox Twenty in 1996, after leaving their old band, Tabitha's Secret. Guitarists Adam Gaynor and Kyle Cook then joined.

6. In April, Thomas was inducted into the South Carolina Music and Entertainment Hall of Fame. His display will be located between Dizzy Gillespie and James Brown.

7. The Florida fivesome are now used to their success.

"It's no longer, 'Oh my god, I can't believe it!' We're not jaded, we just understand this is our job," says Doucette. "So things neither really impress us or get us really mad. We're just doing our thing."

8. Yet Doucette admits Mad Season wasn't the easiest album to record after the mega-success of Yourself Or Someone Like You.

"To be a proper band, you can't just use one person's vision. It's gotta be five people's vision," he explains. "So to get that all into one unified thing is actually kind of hard. That was a little bit of pressure at first. Once we got past that, then it was pretty smooth."

9. Thanks for the segue. Before Rob Thomas decided to write Smooth for Carlos Santana, he asked for Doucette's approval.

10. As it turned out, Smooth was the smash hit of 1999 and earned Thomas and Santana three Grammy Awards. It also led to the inevitable question: Will Thomas leave Matchbox Twenty?

"I know a lot of people were thinking that, but nah, we were proud of Rob. On top of everything, we're friends," says Doucette.

"If it came to a point where it was either the band or our friendship, we'd choose friendship over the band."

11. Don't bother asking the band to play Smooth on Saturday night. They won't -- and never will.

"Rob doesn't view it as our song, he doesn't necessarily view it as his song. It's a Santana thing, it was part of an incredible record and a great resurgence," says Doucette. "I think it would be disrespectful for us to play it. We would be riding on his coattails."

12. Fans of Everclear dissed the pop-punk trio for touring with Matchbox earlier this year. A few hundred even signed petitions opposed to the double bill.

Doucette understands why some of Everclear's fans were upset.

"A lot of kids take their music real seriously. They're at the age when the most important thing in the world is the band that they love. They're also at the age when you are defined by the music you listen to, so in their eyes, I guess they saw it as an insult for Everclear to play with a pop-rock band," he says.

13. Other recent tour problems: Adam Gaynor's beloved green Taylor acoustic-electric guitar was stolen during a gig in Gainesville, Fla., last September.

Apparently, a fan managed to sneak backstage and take off with the instrument.

"Hats off to the creativity of the kid who stole it," says Doucette.

14. Gaynor's guitar was finally recovered when a fan handed it in to a Gainesville radio station. "We've now insured all our equipment with Lord's of London," laughs Doucette. "No, I'm just kidding."

15. Saturday's gig will be Matchbox Twenty's first time in Edmonton since 1998. The fivesome were once booked to play The Rev in 1997, but the gig was cancelled.

"We got stuck in a snowstorm," remembers Doucette. "We almost died so many times trying to get to shows. We'd get there and no one was there because nobody had heard of us."

16. Matchbox Twenty's stage show won't feature any 40-foot bronzed statues a la AC/DC's Angus Young.

"When Michael Jackson built a huge statue of himself for History, I thought 'My god. What a megalomanaic!' " laughs Doucette.

"But with Angus, he deserves a statue."

17. According to Gaynor's online road journal, he wanted to incorporate standard fighting poodles into Matchbox Twenty's live set.

"What?" barks a shocked Doucette. "There's no telling what's on Adam's mind."

18. What's on Doucette's mind? The Web. He can't stand it. He feels it discourages people from interacting face-to-face and destroys the mystery of bands.

"The only time you ever knew anything about Led Zeppelin was what you read in Circus magazine or what was written in the liner notes," he says.

"I talked to some people last night who knew everything about me and I was like, 'That's really weird.' The Web is evil."

19. Not evil: Photography. Doucette has two early '60s Polaroid cameras which he takes on the road with him.

20. Other possible developments: Solo projects. Cook wants to work on his own, and Doucette and Thomas are writing tunes together.

"We've talked about doing stuff separate from this," says Doucette.

"But it's really too early to tell."