Matchbox tunesmith lights band's fire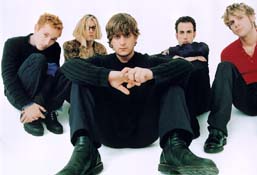 During its massive world tour, matchbox twenty will hit 40 college campuses in North America before heading to Australia and back to the United States.

Music Preview
matchbox twenty
Thursday
Eastern Michigan University Convocation Center, Ypsilanti
Tickets $28
Call (248) 645-6666
---
By David Dodd
Special to The Detroit News
For a brief moment, three-time Grammy winner Rob Thomas was taken back to the days of being a singer in a struggling band, sweating in clubs with the hope that people would someday want to hear more.
That moment occurred a couple of months ago, on stage at St. Andrew's Hall in Detroit. The band, matchbox twenty, was playing one of a handful of club dates before unleashing its massive world tour.
"We had been playing so many huge places that we forgot how great it was for the fans to lean on the stage," Thomas recalls from a cellphone in South Carolina as the band prepares to play at Eastern Michigan University on Thursday.
"Those club shows were great because we were right up close, in their faces, and we could hear the music bounce of the walls in the back. The whole place seemed to just radiate that night."
The rock music of matchbox twenty seems to have evolved to a deeper level of consciousness, not only in the lyrics Thomas penned on the current release, Mad Season — which has already sold more than 2 million copies — but from a musical standpoint as well, since he's utilized the talents of an orchestra conductor along with a horn section.
"There were certain songs on the record that seemed to jump alive with sounds," Thomas says, "other than the standard guitar riff. One song in particular, "Black & White People" — I remember being in the apartment, me and my wife, in Soho, with the window open and we could hear the street noise, so I combined that with the piano line that's in it, and then the muted trumpet."
He then brought the song to Matt Serletic, who composed the orchestrations for several songs on the new release.
"I think I should always try to discover ways of writing and, as a lyricist, analyze different emotions."
In addition to the five members of matchbox twenty, Thomas is adding a horn section to the current tour, which headlines 40 college campuses in North America before heading to Australia, then back to the States.
"We want to create this powerful energy and emotion of making something that will last in our minds," he says. "We'll close the doors to the concert hall, leave everything outside for a couple of hours and forget everything else and just really get into it."