Martyrs to the charts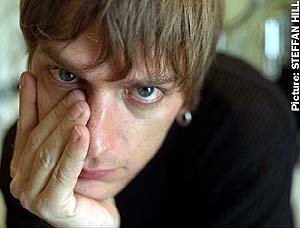 Matchbox 20's first album was so huge that they've only just found time to record another, says Neil McCormick
It's hard to feel sorry for Rob Thomas. After all, the 28-year-old American singer and songwriter has achieved success on a scale most musicians can only dream about. His band, Matchbox 20, have sold more than 10 million albums in the US. As a consequence, he is both rich and famous.
If that isn't enough, he is also considered rather handsome (People magazine included him in "the 50 most beautiful people in the world") and is married to a woman apparently as intelligent as she is beautiful. (Having earned a marketing degree, Marisol Thomas is currently taking a year off from her masters to work as an international fashion model, not a choice open to most students I know.) Not much to feel sorry about there.
But in one curious respect, Thomas might be considered a victim of his own success. All this has been achieved on the back of the band's first album - and until this month their only album - Yourself or Someone Like You, released in 1996. It contained 12 tracks, of which four became hits.
"I'm a songwriter," Thomas declares, with humorous exasperation. "That's my place in life. I write consistently. All these songs build up in my head like a 'to do' list. What good am I if I don't have a place for them? After four years in this business, I'm defined by just 12 songs. Twelve f-ing songs!"
Actually, make that 13. Thomas recently achieved global success as co-composer and vocalist on Santana's comeback single, Smooth. A propulsive, grungey slice of Latin-flavoured pop that Thomas composed for Carlos Santana as "a songwriting exercise", Smooth went on to win three Grammy awards this year, including the prestigious "Song of the Year" prize.
"I don't feel like I won them," he claims. "To me, it was like a gift from Carlos. I was lucky that he took a chance on a young guy with no real track record." He's being modest. Sales for their debut album in the US earned Matchbox 20 a diamond disc, putting them in prestigious company (the only British recipients have been the Beatles, Pink Floyd, Led Zeppelin, the Bee Gees, Eric Clapton, Elton John, George Michael and, er, Def Leppard).
Matchbox 20's achievement is all the more remarkable when you consider the musical climate. Aside from loyalty to established acts and inroads being made at the more extreme, rap/metal crossover end of the musical spectrum, rock is waning as a commercial force. The mass market is increasingly dominated by hip hop, R & B and pop. Matchbox 20 are one of precious few new, guitar-driven, song-based bands to break through to the upper album charts in recent years.
Few would have predicted such success when the five members of Matchbox 20, having got together in Florida, signed with Lava, a small-scale subsidiary of Atlantic Records. The band's debut received a fortuitous boost when, on the day of its release, Lava was brought more fully under the major label's auspices. Given access to Atlantic's marketing departments, Matchbox 20 quickly gained a hold in the lower reaches of the Billboard Top 100 and began a long, tenacious assault on the summit.
"We were out on the road for three-and-a-half years," declares Thomas, his incredulous tone suggesting that he can't quite believe it himself. "We left in a van to play a tour of small clubs and wound up living on a bus playing arenas. Each time we'd get to the point where we were thinking, 'OK, let's stop and make another record,' the album would reach another plateau and the record company would say 'keep going'."
The commitment required for such a relentless campaign may offer some insight into the failure of successive generations of British rock bands to replicate home successes in the biggest record-buying market in the world. As Oasis have discovered, you can't conquer America by waving two fingers at the local paparazzi.
There is an almost dilettantish aspect to much home-grown talent. This is perhaps a consequence of operating in a relatively small market, where hype and controversy can be effectively employed to gain national attention. "In the UK it's always been about what's new, not just what's good," suggests Thomas. "Whereas if you're an American rock band, your job is just to try and write a few good songs, put them on a record and go play them to as many people as you can."
It could be argued that adherence to this simple work ethic exacts a toll in terms of creativity. "The last year just felt unnecessary," Thomas admits. "We weren't shining. We were tired of playing the same record. Come on, you can only throw so many covers in to try and beef up your set. We'd got only one record!"
There was, inevitably, a period of rest and recuperation before they began work on their follow-up. "I had to get a life," he says. "I didn't want to end up writing those 'I've seen a million faces and I've rocked them all' songs."
During his sabbatical, he became a married man, although if one were to judge by the songs on the new album, Mad Season (released next week), this hasn't done much to improve his mood. Titles include Angry, If You're Gone, Bed of Lies and You Won't Be Mine.
"That last one was written after a fight with my wife. You might think the title alone would upset her, but it's her favourite song," he says. "She knows where it comes from. When I get the urge to write, it usually stems from those kind of feelings. I'm a fairly happy guy, but all of my unhappiness gets channelled through my music. I get to go out and scream it every night, get it out of my system."
Thomas does indeed come across as a cheerful individual, with an enthusiastic, excitable nature. He is never more animated than when discussing the art and craft of songwriting. Despite his diamond disc and Grammy awards, he gives the impression that he often still feels like a novice.
He recounts how, the worse for alcohol, he was taken backstage to meet his favourite songwriter, Willie Nelson. "I didn't know what to say to him," laughs Thomas. "All I could come out with was 'I love you'. I mean, this man's body of work is second to none. What have I got?"
He pauses for comic effect, before sighing, "Twelve f-ing songs!"