Matchbox twenty strikes second time
June 2, 2000
Web posted at: 8:55 p.m. EST (0055 GMT)
(CNN) -- When matchbox twenty first entered the music scene with their October 1996 debut album, "Yourself or Someone Like You," it was with more of a whimper than a bang. Critics yawned at the CD, dismissing it as just another -- albeit well-produced -- alternative pop album.
Nearly six months later, with the support of heavy touring and MTV video rotation, the band's first single, "Push," placed on the charts. A signal of things to come, "Push" was succeeded by more successful follow-up singles "3 am," "Real World" and "Back 2 Good," which found cross-format success across modern rock, adult and rock 'n' roll radio waves.
By summer 1998, "Yourself or Someone Like You" had gone gold. The album has sold 13 million copies, proving that the quintet is hardly a "one-hit wonder."
Four years later, back on the scene with critically acclaimed follow-up album "Mad Season," matchbox twenty (recently the band went from "20" to "twenty" and decided to lowercase the name) says there is some concern over "sophomore slump" -- the ability to be as successful with a second album as the first.
Taking time off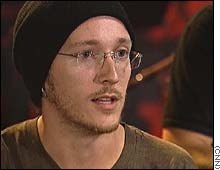 Drummer Paul Doucette told World Beat host Brooke Alexander, "We took about nine months off before we made the record, and we all kind of separated. None of us really talked to each other during that period."
"We had taken time apart and experienced different things," said songwriter/vocalist Rob Thomas, who used his time off to score three Grammies with "Smooth," the smash hit he penned for Carlos Santana.
For "Mad Season," matchbox twenty members embraced their differences as creative inspiration.
Lead guitarist Kyle Cook spoke of the band's desire to focus on their entire sound, rather than just backing up the vocal melody.
"On the first record we spent a lot of time really just supporting [Thomas'] melodies," he said. "But on this record, it's more colorful. We created new melodies, and I think that it comes across a lot better on this record."
Despite changes in the music, matchbox twenty has remained true to the band's mission of creating challenging music. Their first single, "Bent," is lyrically reminiscent of their debut single "Push," which addressed a lover's emotional abuse through a notably well-veiled chorus.
" 'Bent' had all the elements," Doucette said. "It was interesting sonically -- dark and moody -- but then it became uplifting. We thought it was the one song that kind of described the record to someone who had never heard it."
Aside from the music, matchbox twenty has remained true to an even more important mission: each other.
"Above everything else, if the friendships would suffer, the band is gone," Doucette said.