Poems, Stories, and Other Stuff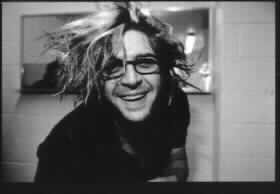 Ok..this part is dedicated to all those stories, poems, and other stuff you have written about Matchbox 20. If you have anything you would like to send in, please do! Email zindo to send stuff in. All the newer stuff is at the bottom.
Pookie's Poem (submitted by zindo)
When I look at Pookie
I think, "damn he's a lookie"
I wonder if anyone has their hookie
On darling little Pookie
I sometimes wonder if it's a flukey
That someone as great as Pookie
Could exist in this world today
Which can often be quite pukey
When I see that shuffling Pookie
It makes me wanna bookie
To the closest dance school
So I can lookie just like Pookie
I wish Pookie was my snookie
But he's probably tookie
By some lucky gookie
That has taken my Pookie
I saw a car today that shookie
With that kik a$$ bass of Pookie
And I wondered with disdaindookie
If I'd ever meet my Pookie
I'm gonna go to my kitchen nookie
And bake myself a big cookie
To remind me of the sweetness
That is dear Pookie
"My 1st MB20 Concert" (submitted by Bellepup)
I was sitting in the bright lights, with the stage right in my sight
I began 2 shake and my heart was pounding. My stomach began 2 ache.
Then as fast as a blink, the whole place turned black as ink!! It was like some1 pulled da plug. That is when I hit my elbow on the armrest with a thug!!
The curtains began to open like opening time at a store. Then the crowd let out loud screams and 1 huge roar.
4 at that very time and place, Rob stood there right in front of my face!
I let out a scream so loud, that he looked over and pointed me out through da whole screaming crowd.
They played "Argue" my most favorite song of all time, as I looked at Paul's bright red hair it began 2 shine.
Then Brian started doing his cute Pookie thing, and an idea in my head began to ring!!
The energy 2 build up 4 this took just a little while. With all my might and will I yelled out "POOKIE!!!!!!!!!!!" He looked at me and returned a huge smile!!
That smile will stay in my mind 4ever. Will it b 4gotten?? NEVER!!!!!!!
The concert went on, and I'm very sad 2 say but it had to end. Yet the memories will never b gone.
Rob, Pookie, Paul, Kyle, Adam, and Joey 2, I just wanna say thanx 4 teh best night of my life and I LOVE YOU!!!!!!!!! :)
hmm..this poem is untitled..got it spur of the moment from the matchbox 20 chat room! (submitted by SarahDoucette...it's a chat name not her real name...and it was written by her and her friend)
ROB IS CUTE ROB IS KIND ROB HAS A NICE BEHIND.
PAUL IS SHORT PAUL IS SWEET PAUL HAS REALLY SMALL FEET.
POOKIE IS QUIET POOKIE IS SHY POOKIE HARDLY EVEN SAYS HI.
KYLE IS YOUNG KYLE IS TALL KYLE IS ALWAYS SEEN AT THE MALL.
ADAM IS OLDER ADAM IS SMART ADAM HAS A REALLY BIG HEART.
JOEY IS OLD JOEY IS NEW WE COULDN'T THINK OF ANYTHING TO RHYME WITH YOU!!
THE END
Hmm...I thought this page needed a story and so here's my story of how I celebrated Paul's birthday...(submitted by zin)
Well it was Paul's birthday..I had said jokingly that I had a hankering to dye my hair...and then I did! Hehe it wasn't blue or anything like that...unfortunately it looks like a natural color :( hehe o well...I went from dark brown to a kinda dark auburn...and it'll wash out in a week anyhoo. So then, for some odd reason, I decided my closet needed a good cleaning...so I cleaned it (duh). In it, I found two reciepts from looong ago...and each one was from August 22 from two different years! The first one I found I was like "whoa cool" considering that day was Paul's birthday and the day I cleaned the closet. Then when I found the second one, I figured it was too weird. I became suspicious...but I finished cleaning the closet and went to bed. Next day, while still celebrating Paul's b-day, I chose what I felt best represented an outfit that was Paulish. Hmm...it was dark jeans, a white Wimbledon t-shirt, and my army jacket. Then I tried to drum on some boxes and such, but my drumming skills are...non existent...and that's how I celebrated Paul's birthday...hehe
Oko..another story! This shows how much my obsession with MB20 rubs off on my friends (submitted by zindo) Well, my friend (who will probably kill me when she finds out I put a story about her on here without her knowing) was at school and she had to come up with a password for something...computer thing I think...well she likes MB20 and all..but she's not obsessed with them like so many of us are...but anyways when she had to choose a password that had to be four or five letters, she told me the first thing that popped into her head was MB20..but then she found out she couldn't do numbers..so the next thing that popped into her head was Pookie! But since it could be five letters at the most, she chose Pooky as her password! Hehe!
"The Matchsticks" (submitted by Rana)
We love our Matchsticks yes we do,
Rob, Pookie, Paul, Kyle, and Adam too.
They make our hearts beat uncontrolably,
And take our breath away instantly.
I love that cute bearded Kyle,
While Zindo likes Pookie and his smile.
All the girls want to be Robs madam,
But then again who could resist that Adam.
Your probably thinkin what about Paul,
No I didn't forget him, no not at all.
He's just as important not a bit lesser,
And isn't he just a snazzy dressy.
And now it's time to come to an end,
So this goes out to all my MB20 friends,
We have all become aquainted to,
Those crazy Matchsticks, I love them don't you?
My Birthday Story (submitted by zindo)
All right, so I had a birthday. And by now all my friends kinda know how I'm sorta just a little um..obsessed with MB20...I don't know where they got THAT idea (note sarcastic tone). Anyhoo, it gave them a good idea of what to get dealing with presents! Lol so I'll just list my presents...um I got this really awesome present that was put in a cleaned out paint can covered with painted paper and MB20 pics...I love that can...I got another Yourself Or Someone Like You cd...lol now I have two! I also got a Matchbox 20 patch my friend made for me and a shirt with the picture on the front of the program cover and on the front page of the official site...woohoo! I probably got more mb20 related presents that I can't remember..but I also got a cake with music notes and it said "Matchbox 20" under all the traditional "Happy Birthday" stuff...and my locker at school was decorated with pictures of the band and cards and all that great stuff! Lol I loooooved it! :)
Adam's Haircut (submitted by zindo)
One day a man named Adam was cornered by a hairstylist...
"Adam," she said, "We must cut your hair"
"Oh no," he cried.
"Not my hair..
Not my hair that goes down to there
It's not fair to cut my hair
Does anyone care
That I want to keep my hair?
I'm hungry..does anyone have a pear?
Please oh please, don't cut my hair!"
But Adam was stuck in a rut...
He was belted by his hands and feet
In a chair at a salon..
Soon he begin to twist and shout
"Let me out," he cried. "Let me out!!"
In five minutes time his curls were on the floor...
"Oh no," he sobbed. "My hair is no more!!"
By then he was hopping mad
But he caught a glimpse of himself in the mirror
And thought, 'Hey, I don't look half bad'
He turned his head from side to side
That's when to himself he had to confide
That he shouldn't have been such a trouble
And that indeed he was a handsome devil
He walked out on to the street
And felt a breeze on his neck
'What the heck' he thought....
'Why is there a breeze on my neck?'
For he was not used to the wind on his neck
He walked by a cd store and saw a CD by Beck...
As walked on his way he thought of how
He'd never have those dreads he wanted
But as he remembered that mohawk he flaunted
A while back, and he decided it was for the best
As he went home to take a rest
"A Matchbox Christmas" (submitted by our fantabulous chat friend Rana!)
Twas the night before Christmas and all throught the bus,
Not a sound was made not even a curse.
The Matchsticks were nestled all snug in there beds,
While visions of dollar signs danced in their heads.
With Rob in his cowboy hat and Paul trying to do a maze,
They had just settled down for a long winter's daze.
When suddenly there came such a clatter,
Rob sprang from his chair to see what was the matter.
To what to his wondering eyes should appear,
But a minature sleigh and eight tiny camel.
"Camel"? Paul said. "That's not how it goes."
Rob sneered and replied through his nose,
"It doesn't matter dear Pauly you see,
This is my story and it's all up to me."
So Paul woke up Adam, Pookie, and Kyle,
And the sight of the camel brought them a smile.
Rob walked up to the sleigh and saw a note,
He anounced it looked like something Santa had wrote.
It said: "Dear Matchsticks I've gotten the flu,
It looks like delivering the toys is all up to you."
Rob said "I think I shall drive."
Paul said "You always drive, maybe you should just go sit on a bee hive."
Adam, Kyle, and Brian started to giggle,
And Rob got in the sleigh and started to wiggle.
"Are you guys coming or do I have to deliver this stuff alone?"
So they all jumped in the sleigh with a couple of groans.
Adam and Kyle put on two elf hats,
While Paul and Brian kept busy playing with two toy bats.
Rob drove the sleigh through the stars,
And Kyle looked around and asked "Are we on Mars?"
Adam looked at Kyle and said "You need some sleep,"
Kyle just yawned and said "Not until our mission is complete."
Brian and Paul were making the bats fight,
And then Brian's bat fell off to the right.
He watched the bat fall down, down, down,
And simply cried with a frown,
"Now I have nothing to do except listen to the rest of you,"
Paul looked at Brian and said "What do you expect me to do?"
With all of this chitter and chatter,
They did not seem to notice that there was a pitter patter,
Kyle said "Rob what is happening? Are we going to fall?"
Rob said "No, no not at all."
We are simply making our first stop.
Kyle and Adam did not hide their glee.
They grabbed the bags filled with toys and said "I want to go down the
chimney, let me, let me!"
Rob said "Both of you sit down or I will turn this sleigh back around!"
Kyle hit Adam and said "This is your fault you shouldn't have made a sound!"
Adam said Kyle "I didn't do anything why are you so mad?"
Kyle said "Don't you order me around like your my dad!"
Adam said "Kyle aren't we in a good mood,"
Kyle said "Why must you be so cruel?"
Brian and Paul had gotten into a fight,
And Kyle was accusing Adam with all of his might!
They landed on the roof and Rob said, "Here's the deal.
Only one of us can go, so all of you just chill."
They all looked at Rob and gave evil grins.
"You bossed us around and now you will get pinned."
They picked up the bags to throw at Rob which weighed a ton!
And Adam reached in the sleigh and got his stun gun!
Rob started running around the housetop,
And the owner of the house was getting ready to call the cops,
Then in the middle of all their fighting, Paul jumped up and threw down his bat,
"Hey look guys what is that?"
They all looked up to see what looked like a star,
But it was actually a man flying a car.
It was Santa who said, "Matchsticks how disappointed I am!"
And they all suddenly looked as innocent as lambs.
"We are sorry Santa and we won't do it ever again."
Santa looked at them and they reminded him of his kin.
He gave them each basketballs.
And said "You better believe it, next year I'm getting the Goo Goo Dolls!"
Santa took them back to the bus.
And he said "Now I better never hear you fuss!"
They all went back in and sat down in the dim light.
Rob said, "Well Merry Christmas guys, but I hope you don't sleep tonight!"

Obsession
A thought, a sigh, a knowing touch
You float in like the breeze
Singing with the melody of the trees
Swaying with the gleeful ecstasty
of a careless whisper
set forth before an audience
attentive of your every gasp
Knowing not the temptation you
unravel within the longing
souls of the ever lonely
creating fantasies yet unrealized
And with but a murmur and a glance
set the heart to racing and
mind to a spinnning chaos, ever
to return to the mundane sanity
which it had harbored
The Matchsticks On Stage (submitted by Laury)
Seeing the Matchsticks in concert, it brings us such joy.
Just the sight of them puts a smile on every girl and boy.
Rob at center stage, piping the vocals out,
one hand clasping the mic, the other flailing about.
For him it's so easy to make the fans scream and shout.
We only wish he'd preform nude, like that guy from No Doubt.
Adam, clad in his sneakers, so he can jump all around,
he gets the crowd so full of zen they just can't sit down.
This is the reason we drive out of town,
to see our pal Hashbrown, our favorite clown.
Kyle hammers a riff while he smokes a cigarette
and sings back-up like you wouldn't forget.
Those oh-so-Kyle facial expressions are the best we've seen yet.
He's the grooviest guitar player you've ever met.
Paul's at the drums pounding out the beat,
providing the rythmn that gets you out of your seat.
If you get a chance at the meet and greet,
check out his shoes, he's got some tiny feet.
Brian's bass line beats in time like a clock.
With ease he shuffles, he doesn't just walk.
Despite his tendancy to rarely talk,
Pookie's taught us plenty about the sound of rock.
And that's why we love to see a live Matchbox show the way we do.
We'd never trade our tickets for Dave Matthews or The Who.