Rob Facts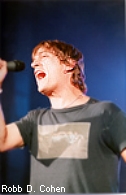 Short Bio:
Rob Thomas is the lead singer and frontman for Matchbox 20. Interesting tidbit: He was born on a military base in Landstuhl, Germany. Rob was born on Feb. 14th, 1972. Rob grew up writing songs, originally 'cheesy' songs 'to attract girls'. He has said that most of his songs originally came into being on highway exit ramps, where he liked to sit alone and work out melodies on his keyboard. When he was 17, he ran away from home to escape from a turbulent time for his family and spent the next three years hitchhicking throughout the South. Rob helped create Matchbox20 with Paul Doucette and Brian Yale, when they left their previous Orlando band, Tabitha's Secret.
Random Facts:
- Rob's full name is Robert Kelly Thomas
- he is 5'9"
- he wears size 9 1/2 shoes like Brian
- he's quite a mover! After his family left Germany shortly after Rob was born, they moved to Florida where Rob lived for a short time before moving to South Carolina to live with his grandmother. Then he went back to Florida (Orlando)...and up until recently he lived in Soho in New York City but has just recently moved to Westchester County, NY. Whew!
- he knew he wanted to be a musician at 13
- he hated touring at first
- he hates rude people
- his favorite author is Kurt Vonnegut
- he loves the colors blue and black
- Rob can cook really well, he says it's his only other bankable skill
- he dislikes the internet because email scares him
- his biggest influence is Steve Burry
- his fave song on YOSLY is "Kody", but he loves to perform "Back 2 Good"
- he also loves to perform "You Won't Be Mine"
- Rob cut his arm while chained to the wall, and also got pretty battered according to his sister, while filming Push video
- he likes dogs and koalas
- he says the biggest change in his life since the band became successful is that he gets to wear really nice clothes
- he likes to wear black most of the time
- Rob LOVES Australia