Kyle Facts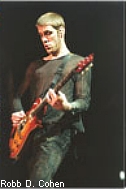 Short Bio:
Kyle Cook is matchbox twenty's lead guitarist. He comes from Indiana, and was born Aug. 29th, 1975. Kyle studied at the Atlantic Institute Of Music in Atlanta, and played classical violin long before he picked up his first electric guitar. Kyle was into guitars since (and probably before) high school. In fact, his high school picture shows him with his acoustic guitar (check that out here). Matchbox Twenty's producer, Matt Serletic, brought Kyle into the band when Matchbox 20 needed a lead guitarist, and he immediately clicked with the other members.
Random Facts:
- Kyle's full name is David Kyle Cook
- he is about 6'2"
- he wears size 11 1/2 shoes
- Kyle's hometown is Frankfort, Indiana
- at last check he lives in Orlando, Florida
- he attended the Atlanta Institute of Music in Atlanta, GA, where he says he learned nothing
- Kyle played violin for five years before started with the guitar
- he got his first guitar on his 13th birthday
- his first guitar was a Yamaha Classical
- Kyle got into matchbox twenty through audition tapes of him playing and singing an acoustic Babyface song
- he played guitar on streetcorners and in coffee shops in Atlanta before he got his big break
- Kyle sings the chorus of "Hang" on the album and at live shows
- his favorite song on YOSLY is "Girl Like That"
- he wrote a song called "Happy" that matchbox twenty sometimes played during their previous tours
- he is a good cook (ha ha!)
- he and Adam sometimes share clothes
- Kyle once worked for UPS, and that's what he thinks he'd be doing if he wasn't making music (of course, he's also a wiseass, so who knows if this is true..lol)