Buddy Icons
These are some buddy icons for your AOL Instant Messenger. More will be coming soon!
Directions
There are two ways to put a buddy icon on your Instant Messages. The easiest way is to simply click on the icon you want (you need to be signed on to AIM at the time) and a confirmation box should pop up. Click 'OK' and you'll be all set!

You can also right click on the picture you want and select 'save picture as' to save it to your hard drive. Remember where you place the icon so you can retrieve it later.

When you wish to select an icon, sign on IM's and choose 'My AIM', then 'Edit Options' and 'Edit Preferences'. Then choose the 'Buddy Icon' tab. Click on the 'Browse PC' button and go to the folder where you saved the icon and click on the 'Ok' button. And then click 'Ok' again and you're all set! :)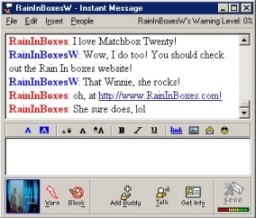 Adam



Brian




Kyle





Paul





Rob




Misc.