Brian Facts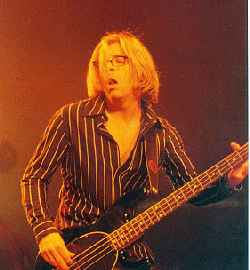 Short Bio:
Brian Yale is the bassist for matchbox twenty. He was born Nov. 14, 1968. I think he's originally from Connecticut..not sure. Brian played bass Tabitha's Secret with Rob and Paul. When Rob left Tabitha's Secret (around 1995), Brian and Paul went with him, and the three of them created MB20. Brian is quiet, but is supposed to be the goofiest bandmember. He is known as 'Pookie' by the rest of the band and by all the adoring fans in the world.
Random Facts:
- Brian's full name is Brian Joseph Yale
- he was born Nov. 14th, 1968, which means he's 30
- he's 5'7"
- he's part Jewish
- he wears size 9 1/2 shoes like Rob
- he attended Miami State University and graduated with a degree in Musicology
- Brian also spent time at the Berklee School of Music in Boston
- he played trumpet in his high school band
- he is into computers
- he likes to quote SNL and Austin Powers (yeah baby!!!)
- he uses Aveada hair products
- he really gets into the music onstage
- he's the most introverted of the matchbox twenty boys, but really sweet and bubbly in person
- he has a dislike of mayonnaise
- he loves to golf!