Adam Facts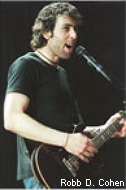 Short Bio:
Adam Gaynor is matchbox twenty's rythym guitar man. He was born Nov. 26th, 1963. I am not exactly sure, but I believe he grew up in New York City, and he now lives in Miami. When Adam's older sister received a guitar for a present, he became so jealous that he stole her guitar and taught himself how to play. He was working at Criteria Records as a receptionist when matchbox twenty producer Matt Serletic heard him playing guitar and brought him into matchbox twenty as rythym guitarist. With his effervescent personality, he gives the band the little 'kick' it needs in order to be certifiably insane. We love Adam.
Random Facts:
- Adam's full name is Adam Gaynor (no middle name)
- he is 6'2"
- he wears size 13 shoes
- Adam went to college in Texas
- Adam taught himself to play guitar
- he is a neat freak
- he hates it when people sneeze and don't wipe their hands before playing his Gameboy
- he likes the Jacksons
- Adam is Jewish
- he only paints his thumb and pinky finger
- he likes reptiles
- he doesn't like insects
- he is allergic to dogs
- he once owned a poodle
- he doesn't smoke
- he collects doll baby heads and gnomes
- he goes online the most out of the band, and is very active with the official website
- he sometimes shares clothes with Kyle
- Adam's favorite beverage is apple juice
- his favorite songs on YOSLY are "Push" and "Kody"
- he would to tour with Jimi Hendrix if he could tour with anyone (too bad Jimi's dead)
- Adam exaggerates and fibs sometimes.. a lot actually.. but it's cute
- he claims he drives a Nissan Maxima
- Adam likes the band Bush